If you have kids that watch Nick Jr, you've heard of Team Umi Zoomi! Plus, they're showing commercials often for these math kits right now. As a teacher, I can tell you that math is often a struggle for little ones in the beginning. It has to be very concrete. Anyhow, by introducing math to your kiddos using characters that they are familiar with, will spark their interest!
Click here
to check it out!! **GREAT gift idea**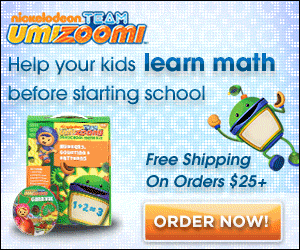 INCLUDED IN MATH KIT:
Team Umizoomi Preschool Math Kits teach essential early math concepts like numbers, counting, shapes and measuring. Designed by early childhood experts, UmiZoomi kits introduce core math practices that help prepare children for kindergarten and beyond.




With Team Umizoomi characters like Milli, Geo and Bot, each math kit makes learning easy, engaging and fun!




Each kit includes the following for just $19.99




Team Umizoomi DVD

Umizoomi Storybook

Full-color Workbook

Math Activity Coloring Book

24 Math Mission Cards

Umizoomi Pencils & Eraser

Exclusive Team Umizoomi backpack available for just $10 (a $20 Value)!