So, I know that there are mommies out there that make their own baby food. Honestly, I can see LOTS of benefits to doing it. However, I never did it... so I obviously know and understand the convenience of just buying store packaged baby food (especially when it's on sale *wink*). Well, I was doing some research and found out a few NEAT things that I wanted to share with you and then, I'd LOVE to hear from you! And if you know someone who could benefit from this or someone who could contribute to this, PLEASE pass it along! Thanks!!!
First off... there are products that make this process easier... here are a few links for you to check some out: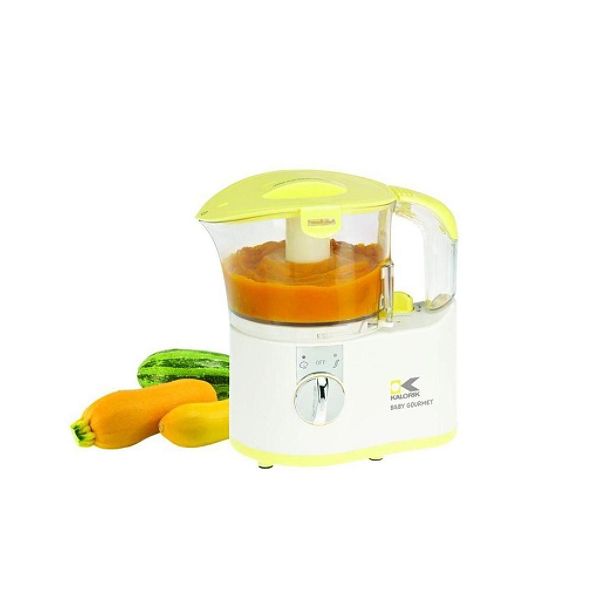 Kalorik Kalorik
- $99.99
From now on, life is easy with the Kalorik Baby Gourmet. Food Processor and Steamer in one unit, prepare baby food in under 10 minutes! *Know what you are feeding your baby. * No fillers or preservatives as off the shelf baby foods. Save money, no more buying expensive baby food. Simple operation only 1 two-position switch for entire process. * High speed stainless steel blade rotation to chop food to very small pieces. * Powerful steam to cook food in very short time. * Clear tank and basket for easy viewing. 100% PBA Free and FDA approved. Includes a stand for sterilizing pacifiers and a container to reheat and defrost food.
BEABA Babycook
- $149.95
The Beaba Babycook, is a one-of-a-kind, patented compact countertop appliance that functions as a steamer, blender, warmer and defroster to prepare fresh, healthy meals for baby. It starts by steam cooking vegetables, fruits, and meats in less than 15 minutes, while preserving their vitamins and flavors. It then purees or blends them to the desired consistency. Parents can also use it to quickly reheat or defrost precooked foods. Spatula for removing the basket and scraping the bowl included. The Babycook is easy to clean (hand washing is recommended) and is top-rack dishwasher-safe. Recipe and menu booklet included. For babies 6 to 24 months. Product bowl is made from unbreakable Polysulfone (PSU) which is BPA Safety-Tested and basket is made from transparent Polypropylene. Winner of various international awards including: JPMA Innovation Award 2008, Parents A Choisi, Best Baby & Infant Product 2007 the Netherlands, Practical Parenting Awards 07/08. Features: -Bowl Size: 2 cup (600 ml) -Super Fast Cooking: 15 minutes or less -Four Functions: (1) steam cooking - preserves vitamins (2) blending - you control the consistency (3) super-fast reheating (4) express defrosting -Manufacturer s Age Recommendation: 6 to 24 months -Product Weight: 3.5 pounds (1.58 kg) -Designed in France
OXO Tot Baby Food Freezer Tray
- $4.69
OXO Baby Food/Formula - Freeze homemade baby food with the Baby Food Freezer Tray. A patented cover lets you release one cube at a time or as many cubes as you need. The innovative tray design releases cubes easily, and the cover also makes it easy to stack multiple Trays, and eliminates freezer odor from permeating your cubes so baby food stays fresh. Makes fourteen -ounce cubes.
Munchkin Fresh Food Freezer Cups
- $9.99
Munchkin Feeding Accessories - These fresh food freezer cups include 4 silicone cups with lids and a storage tray .They are made from durable silicone that is food safe, freezer safe, and microwave safe. The smart design allows you to easily pop out food or freeze, store, and serve in the same container . The color coded cups and interlocking trays make freezer organization easy. Wash before use. Do not boil or steam sterilize. Remove lid before microwaving. Always stir and check temperature before serving. Inspect for damage before giving to child.
Fresh Baby So Easy Baby Food Kit
- $38.09
Fresh Baby So Easy Baby Food Kit When your baby is ready to start on solids, this kit will help you prepare healthy, all-natural, age-appropriate foods at home. You'll use fresh, nutritious ingredients with no additives to nurture your growing baby with a balanced diet and form the basis for healthy eating habits during toddler hood. Follow the easy, month-by-month cookbook and in less than 30 minutes you'll have a week's worth of baby food ready to pop out of your freezer, one serving at a time.
BASIC METHOD FOR MAKING BABY FOOD:

1) Decide what kinds of baby food you want to make - fruits, vegetables, meat and vegetable combinations
2) Use fresh food whenever possible, although frozen vegetables are a close second nutritionally, there may be added salt, so read the label.
3) Cook the food thoroughly with some liquid, but overcooking is not necessary or desirable. Steaming is a great way to cook vegetables. Meat should be stewed if at all possible, cooking slowly with some liquid in a crock pot or in the oven.
4) Puree, mash, or put the food through the baby food mill until it is the desired consistency.
5) Pour finished food into ice cube trays, cover with plastic wrap or tray covers and freeze. Cover and refrigerate any food that didn't fit in the trays, use or freeze within a day.
6) When the cubes are solidly frozen, pop them out and store in freezer zipper bags or containers. Label with contents and date. Use cubes within a few months for best flavor and nutrition.
7) To use your homemade baby food, just take out the desired food and let it thaw overnight in the fridge, then warm by your usual method.
This may sound
like a
lot of work, but you can make a month's worth of good nutritious food in just a few hours.
SAMPLE RECIPE IDEAS
(links to their site provided... click them to find more recipes):
Simple Bananas Foster
(simply baby food recipes)
This is

a

scaled down version of Bananas Foster Desert. The original recipe calls for ice cream and caramel

,

but you can surely add that for yourself for a yummy treat.
Ingredients:
1 sliced banana
dash of orange juice
dash of cinnamon
drop of pure vanilla
Directions:
Combine all ingredients in a pan and saute for 1 minute. Mash with fork and serve.
For toddlers, do not mas bananas and top with a dab of caramel sauce if desired.
Garden Vegetable Combo:
(wholesome baby food)
Ingredients:
fresh or frozen green beans, peas, summer and/or zucchini squash, thinly sliced pieces of potato, and small pieces of chopped carrots
Directions
:
1. Combine fresh or frozen green beans and peas, summer and/or zucchini squash and thinly sliced pieces of potato, and small pieces of chopped carrots.
2. Add enough water to just cover the vegetables.
3. Cook until tender, reserving water.
4. Puree vegetables in blender or food processor,
5. Adding reserved water from the vegetables until mixture is of the desired consistency.
So... what about you? Have you used any of these products? Have you made your own baby food? Any tips? Any recipes? Come on ladies...
LET'S CHAT... :-)